September 6, 2023 at 5.30 pm
CONFERENCE DINNER in ELESKO Restaurant & Wine BarWine-making company the beneath Low Carpathian mountains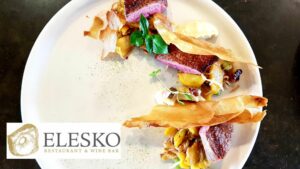 The company ELESKO started building a wine complex in 2007. This unique building is built in modern architecture, which enables an interesting connection to various marketing and cultural-social activities for visitors. When designing the winemaking technology, the latest knowledge from wine production was taken into account, taking into account the traditional procedures for maturing wine in barrique and oak barrels. All vineyards of the ELESKO company are included in integrated production, which is kind to nature and minimizes the use of chemical preparations in favor of biological and environmental protection. The first vineyard was planted and baptized by the company already in 2004. When planning the varietal composition of the vineyards, the company takes into account the combination of climatic and soil factors with respect to the tradition in the given area.
September 8, 2023 at 10 pm
BRATISLAVA TOUR – sightseeing through the historical and nowadays Bratislava
The cost will be announced later.